Web Design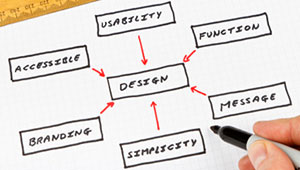 A sturdy presence on the Web is not only an ideal channel for marketing, reaching new clients, and globally expanding your brand, but such a presence can be achieved at relatively low costs. A company's web site should not only look good, but perform in achieving predetermined goals such as reaching new customers, retaining clients, create new streams of revenue, etc.
Although existing templates and pre-fabricated layouts make many existing web sites appear to be simple on the surface, the implementations of custom designs and behind-the-scenes coding are time-consuming and complicated, making the development of an appealing and highly-functional yet easy-to-use web site a unique and complex challenge. For instance, a graphically appealing web site must not only adhere to strict coding guidelines, but it must conform to the standards of multiple browsers and perform/display with consistency under various scenarios. Not only that, but a web site must be search-engine friendly as well.
Portal Software Solutions Ltd. has therefore taken upon itself to offer its specialized services in helping to achieve professional, yet affordable, web solutions. Whether it's a small site comprised of a few static pages, or a large and complex web portal,

we'll custom tailor your design and cater to your unique, individual needs in lending service to the achievement of your goals.
Although our designs and solutions are custom tailored to the individual's particular needs, it doesn't mean that you'll pay a high price. With two development centers located in Hong Kong and India, you'll not only benefit from a wide poll of experienced web designers, but you'll also be greeted with very low prices; and while you wait for the full-implementation of your custom solution, get a functional web page now (with CMS) from prices starting at just 300 Euro. In the field of web design, we offer the following services:
Design and installation of your home page.
Custom web site design with conformance to your specifications.
Specialized structuring of content for achieving optimal search engine results.
Valid, W3C compliant, coding with adherence to (X)HTML / CSS standards.
Content creation (on demand), including product information charts, pictures, company information, etc.)
Assistance with domain registration and new email accounts (if required).
Of course we also offer help with the creation and integration of other services such as CMS, blogs, contact forms, database applications, dynamic programming etc.. No matter your needs or the scope of your project; we're here to ensure all the requirements are met in developing a suitable and innovative solution to help you meet your goals.
If you would like to now begin the implementation of your custom-ordered web solution or would like to consult with one of our representatives for any other reason, please feel free to contact us.